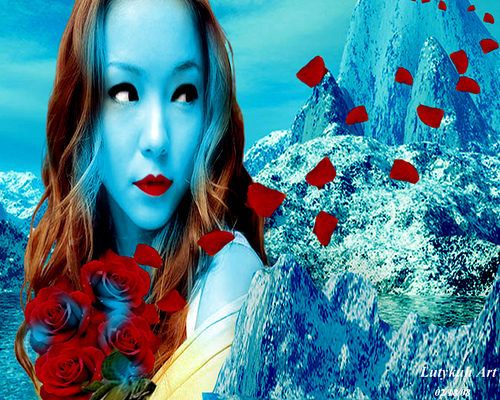 Young and Famous in 2030 – a Scenario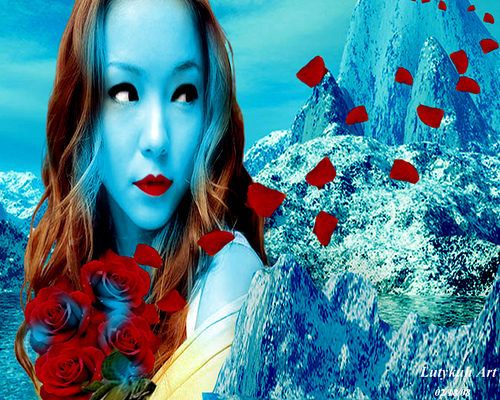 Sorry Kitty is lead singer of the K-pop band Saccharine.
Her nickname is a blend of Super Junior's 2009 hit Sorry, Sorry and the still popular cartoon Hello Kitty, and influenced by the post-ironic cat-meme era she was born into. She earned it for her allegedly sad expression as a child, but later made it her legal name as a provocative statement of Asian pride. While Korean women in the entertainment industry undergo canthoplasties and other plastic surgeries to look "less Asian", Sorry embraces her Asian features and is unknowingly signaling a new trend that will unfold after her career takes off in 2030.
Sorry grows up as an only child of a Korean PR professional / Tigermother and a British DJ / sound engineer who moved to Korea to work as an English teacher when the job market dried up in Europe.
Hyperparented and public: "Successful Children In Omnipotent Nurturance" (SCION) – is an ironic term that
has grown into the modern vernacular to describe children raised the way Sorry is. SCIONs are mostly growing up in the U.S. and Asia, and are raised by extreme versions of those who once went by terms like 'soccer moms', 'stage moms' and 'helicopter parents'. Parents who raise SCIONs are not only driven by vicarious narcissism, but also by pragmatic fears of challenges posed by global competition and population growth such as scarce access to jobs, security and resources. Real or imagined, these external threats motivate parents to build a public reputation that will maximize opportunities to succeed later in life. "Positioning" is just as important as true talent in a world driven by short attention spans. Hence the SCIONs childhood is planned, profiled and public right from conception. SCION parents know how to use social media (or just media as it is now called) to it's fullest. Sorry's mother is taking great care curating her public profile right from the first sonogram, not leaving anything to circumstance. But although (social) media projections are never spontaneous, they have to espouse a sense of leisurely bliss. Constantly searching for photo-ops and making them appear serendipitous rather than staged is tiresome. But in a virtual landscape where everybody is screaming for attention, frequency and "authenticity' is key. The first tooth! Happy family holidays! Moments of subtly pretentious joy, meticulously stylish yet charmingly whimsical. Balancing formal attempts at showcasing Sorry's talents with something that can pass for "genuine family moments" is critical in order to stay "personable". Sorry's family subscribes to a coaching service which helps brand her the right way, but behind the facade there are many rough moments. The hardest part is cajoling a five-year-old to do weekly auditions in-between long violin practices and acting classes. But Tigermom is not too worried as she reasons all the tantrums and crying spells will only improve Sorry's vocal capacity.
Custom-made education. Like most SCIONs, Sorry is receiving a custom made and blended type of education. Streaming instructional videos from the world's highest accredited schools and universities, Sorry doesn't go to "a school" but enjoys a curriculum and teaching staff that is customized to her level, interests and ambitions. A private tutor and physical class time with a carefully selected set of children provide Sorry the social stimuli she needs without the risk of being exposed to "bad social influence".
During the late 1990s and the following decades, the South Korean government and venture capitalists aspired to leverage Seoul as a global cultural hub. Through Hallyu the country hopes to attract tourism, innovation and young professionals, and thereby solve the problems associated with top-heavy age demographics and the cultural "copycat syndrome".
Imploding North. Meanwhile the North is quietly imploding. The demise of North Korea is less about what happened to it as what didn't happen. The propaganda regime is experiencing vexing challenges as cultural influences from the south seep in through the deepening cracks along the political border. Pyongyang's stubborn military hubris led China to finally dry up its economic support. While not completely without strategic significance, geopolitical considerations have shifted in a world where China has taken over much of the economic dominance. While the U.S.'global influence deceases, China's attention is turning inward to deal with challenges related to eldercare and productivity. Since China has hegemonic interest in the region there is some interest in allowing North Korea to become a "vassal state" if unification with South Korea does not happen.
Musical inspiration.The band name Saccharine is a mockery on traditional K-pop and how it
rose into popularity: artificial, nauseatingly sweet and carcinogenic in large doses. Whereas the boy-bands and the girl-bands of the 1990s and 2000s are now thought of as cheesy pop replicas from the west, Korea is starting to find it's own sound. Saccarine uses advanced spectral deconvolution algorithms to predict the hits that can keep them afloat, but they also allow themselves some creative freedom and try out less commercially viable melodies for indie audiences. Just like Apple's popularity submerged under that of Samsung during the mid-2010s, Asian artists are drifting away from the Westernized popculture that once served as an important template for K-pop. Cynics say that this is when the copy started to overtake the original. The movement was partly due to Pan-Asian resurgence and partly to the influx of creative classes from the west who had grown disillusioned with repressive radio formats and stifling copyright laws in the west, particularly in the U.S. Korea pop blended with he 2010s era's dubstep styles and creative use of autotuners are still influential, but the sound is more eclectic now. The large record labels are less influential in promoting artists in the 2020s and 2030s. Digital technology, DYI and maker movements have just about turned these companies obsolete and useless for anything else but marketing. But in this horisontalized market of artistic hopefuls competition is fierce. Attracting audience, let alone making money, is a daunting task. Despite the head start provided by Sorry's parents relentless PR building over the years, Saccharine has to build its name by featuring a lot of product commercials. Compromising their musical products with commercial involvement is a fine balance, but necessary in order to stay in business.
Holographic Performances. Since the average global temperature has reached a tipping point of self-reinforcing warming and the airline industry still depends traditional CO2 emitting jet fuels, traveling for leisure is prohibitively expensive and often frowned upon.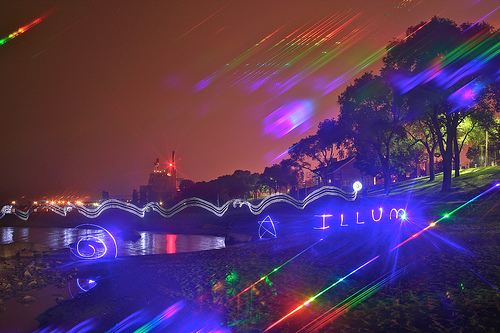 Musical performers who want to stay popular among the teens hardly ever go on physical concert tours anymore. On the other hand this generation makes little distinction between the analogue and the digital world anyway. Remote concerts or 'happenings" featuring holographic projections of the artists can be fully satisfying and even more practical than the real thing. Music loving teens are a pretty orderly, some will say vapid, crowd these days anyway. Moreover, by using digital projection technologies, surprise gigs can be added. Nothing is more surprising than impromptu cameo performances from long dead performers and duets with the artists' earlier version of themselves.
The house parties of the 1990s are back. These are often great mixes of concert experiences and hallucinatory effects. Older generations are gravely concerned that kids forget to turn off the ID markers in all electronic devices and inserts. There is great fear that potentially dangerous individuals capture personal information via device-to-device communication only to victimize whomever fancied their attention at a "happening" or a party. The crime reports can point to some horrible occurrences, but most of the time privacy settings have become second nature for this generation.
There is a feeling that change is imminent (isn't is always?), and especially the overprotected, "positioned and profiled" Homeland children are turning away from the contrived happiness and zealous ambitions of their parents. They quietly envy their friends who are raised by chill-out parents. This is a parenting style that grew out of fashion in the 1980s and 1990s when childrearing became professionalized. In countries that priced high achievement and competitiveness, chill-out parents thrived only as a fringe movement among the middle class. But as young Millennials and Homelanders are reaching their fertile age, many silently object to their own childhood and yearn for something less competitive.
The scenario based on my Rise to Fame Through the Generations slideshow and current trends. This is a baseline forecast of a probable/possible, middle-term future based on existing, known trends. Likely, existing trends will be disrupted by unforeseen, transformational events, but not necessarily within a 17 year time frame. 
Images: diannelabora, Joseph A Ferris III, Gilderic Photography, illum