The War on Digital Content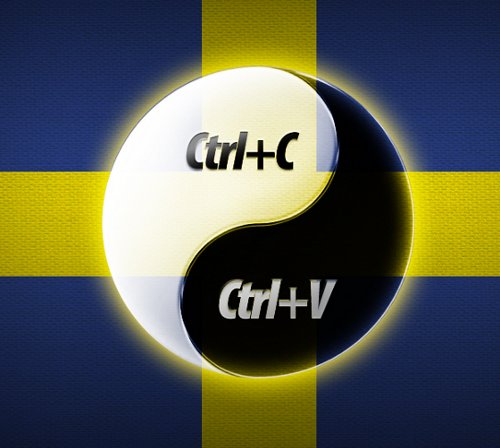 When the New Silents look back on the month of January 2012, they might recall a few contradictory events that had bearings on how they handle digital information. On January the 5th Sweden officially recognized Det Missionerande Kopimistsamfundet (the Missionary "Copy-me" society) by granting it religious status, which in essence sanctifies the act of file sharing. This
political gift to file sharers can only be seen as endowing moral righteousness to an activity that usually is viewed as immoral and illegal. Contrarily, on January 18th websites like Wikipedia, Google, Reddit, Mozilla and others blacked out their websites in protests of the anti-piracy bills SOPA and PIPA that were up for voting in the U.S.
Congress. Anti anti-piracy advocates argued the bills if enacted were flawed and would go far beyond preventing illegal file sharing, but in reality open the floodgates for internet censorship. After 4 million petition signatures and 250,000 messages to Congress, several legislators changed their minds and killed the bills. For now anyway. Yet the very next day FBI provokes the file-sharing community when arresting Megaupload founder Kim "Dotcom" Schmitz in New Zealand and shutting down the popular file-hosting service. In response – or revenge rather – hacktivists of the group Anonymous  took down several U.S. government websites and some of the entertainment industry and those of organizations affiliated with protecting intellectual property rights. The war is on. Next step in Anonymous' Operation Blackout is to crash Facebook, or so they say. And all this time behind the scenes, the ACTA treaty is being negotiated between the EU, U.S., Japan, South Korea, Australia and a few other countries – a legislation which may overrule national legislation and make signatories responsible for policing file-sharing even if the implementation is against it's citizens' will.
Rick Falkvinge, the founder of the Swedish Pirate Party, said that the ACTA copyright protection treaty is an"excellent example of abuse of power by the corporate industry." He goes on to say: "This legislation about putting people in jail was negotiated by corporations and the lawmakers just got it in their lap,". "That is not how a democratic society should work, quite regardless of what this law says."
What does all this mean for the generation of tomorrow's users and producers of content? For the generation who brought idols like Justin Bieber to fame by massively sharing his amateurish YouTube uploads? How will today's 10 year olds react when their digital playground becomes either restricted and heavily policed? Or will will they support far -reaching anti-piracy legislation when they themselves reach the age and accomplishments  where their products can easily be exploited by third parties that specialize in siphoning the profits from intellectual products?
In order to make a guess at the youngest generations' more mature preferences in the future we have to look at the distinct habits and values they grow up with and how this might shape their attitudes towards file-sharing.
Study after study show that younger generations are overwhelmingly more accepting of file sharing than older generations who tend to adhere to a more traditional code of ethics. So this transnational political controversy is a generational one as well as an issue of the "have-copyrights" vs. "have-not-copyrights".
The question though is if the moral difference is an effect of age or if it points to a generational gap. In other words, will aging millennials and post-millennials grow more negative towards file sharing with age?
It occurred to me that it might be a good idea to see if there is a generational pattern around how recording artists come down on the issue. Google didn't give me a list over which artists are for or against file sharing (let me know if you find one!). However, I did come across a Dutch study, which gave a breakdown on how their artists divide around the issue of file sharing. In response to suggested policies that would nationally blacklist copyright infringing websites 28% of the artists questioned were in favor. The majority of artists were against the draconian law proposal with a significant slant towards younger artists. Again, the age factor could point to the fact that this early in their career they have more to gain from exposure than lose from missing profits.
Justin Bieber came out strongly against a bill that would make singing a copyrighted song on You Tube a felony, and wants sponsor of the bill Senator Amy Klobuchar (D-MN) "locked-up". Of course, the You Tube proposal is extreme and Bieber's vested interest comes through as he wouldn't be where he is today if it wasn't for You Tube. But that only exemplifies what a double edge sword file sharing really is for artists. It provides much needed exposure for the artists at the beginning of their career, but limits their profit potential once their career takes off.
It would be tempting to conclude that aspiring young artists are less concerned about their ability to protect their artistic products than older artists. But the picture isn't fully that simple. Take Lily Allen for example. The 24 year-old who chastised older, more established artists for supporting piracy by opposing stricter copyright protection laws. Her statement is that well established artists like Radiohead guitarist Ed O'Brien, Pink Floyd drummer Nick Mason and Blur drummer Dave Rowntree are pretty much rolling in the dough and can afford slack off on missing profits.
""Certain older, established and very very wealthy musicians/artists who have made MILLIONS from CD sales before the days of piracy and the internet and who now regularly sell out arena tours (which they can do only because of how popular they became in the 'good old days') have claimed that file sharing (piracy) is NOT a problem to the music business (well not to them anyway!)
U2's Bono, an artist who frequently speaks for the disempowered, comes out strongly in protecting of artists against the privations of modern technology. So the picture is definitely more complex. We have well-established Boomer artists sympathizing with young aspiring artists and well-established Boomer artists accepting potential copyright infringements as an acceptable price to pay for an open internet. They same goes for younger Millennial artists.
If there's a will, there's a way. This may sound overly simplistic, but when it comes to ubiquitous technology, people will continue to use it to the fullest no matter what the laws dictate. Harsh laws that come with censorship as a side effect, will not be tolerated in the long run. After all its up to the next generation of artists, and how are they going to get the exposure they need if their digital venues are taken away?
Image: Odd Culture